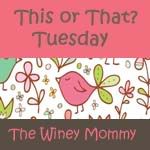 To play along just copy and paste this scenario to your blog then choice this or that! Ok this week's scenario is...
You show up at a party of an acquaintance. It's an evening party and you don't know very many people there. For whatever reason you decide to show up alone--and pray that your friends will indeed make it.
Would you rather show up under dressed or over dressed?
For me, I would much rather show up over dressed. For some reason I think that if you show up somewhere under dressed people look down on you like you do not own anything nice. Even though I hardly ever dress up I would try to make myself look presentable for a group of people I did not know.
Which one would you rather do??!